My first journey to India was in December 1993. For my 50th friends got together and graced me with a plane ticket anywhere in the world. As a child, my dad brought me up in Eastern thought, so in the '60's when so many friends went East, responding to their spiritual quest, I stayed home and gypsied in the U.S.
As the departure time came near, several friends said: "India, alone? Why, you don't know a soul there", to which I certainly replied, "Of course, I do! I just haven't met them yet."
I spent 6 months in India. In Pushkar, Rajasthan, about 3 months into my trip, I ended up one evening at a government run tourist bungalow. Out my window I saw and was totally pulled towards a small shack, thinking it was a local restaurant. I jumped over the stone wall and into a huge field of marigolds.
I got to the small opening of the dirt thatched hut, and out tumbled two young boys so curious as to who was I, and what was I doing almost inside their home! Their young mother, Anar, came out with her third son in her arms, and in that first glance, both of us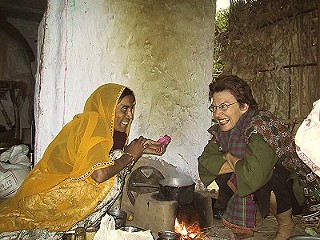 got tear filled eyes, and I knew this was a true meeting. I spent the night with this newfound sister and her boys, leaving my backpack in the $1.50 room just yards away. This first time together was not even 12 hours, but we were like family, and there was a profound sadness leaving the next morning.
I returned, 2 years later, with a scrapbook of photos I had taken of Anar and her boys, calling out, "Anar, Anar, … it's Zuni!" (my Indian name that my Kashmiri family in Srinagar had given me). Bawani, Anar's oldest son, heard me and came running out, the goat and her baby and the cow and her baby scurrying to get out of our way! What a tremendous reunion, and now, a fourth son as well! I spent a few weeks with Anar and her sons, this time staying in the hut and helping cultivate the small cilantro field surrounding them.
Anar lives on $20.00 U.S. a month, sales from the cilantro and her one-pot cooking for Westerners who flock into this old hippie-trail town in India's northern desert. Shortly before I had to go, I realized that for one months rent, $500.00 U.S. for my studio back home, I could give this same amount to Anar for a house to be built. I thought about it with concern: would her mother-in-law beat her and take the money?, would she be threatened by the older men in her family compound? I really had to come to a still place, and knowing and trusting Anar as I do, I decided, if anyone could succeed in this, she would!
Anar and her youngest son, Hemat, followed me the next morning to the funky bus stop on the edge of town. I had gone to an Indian bank and gotten $500.00 worth of rupees, which was the biggest stack of bills I had ever held. I looked Anar in the eyes and told her that I wanted to help her build a cement house with a floor and roof ~ a place she would always have as her own.
I started to pull out the bundles of rupees, and Anar just bent over from the waist, tears flowing, her young Hemat wondering what was going on? We were able to stuff the bills into her sari skirt and blouse. She had a small string around her waist with a key to the lock of her one tin trunk where she would put the money.
A year and a half later, again, running down the path, and singing out my greeting "Anar, Anar ... it's Zuni!" - all the boys came running, and Anar and I fell into each other's arms ... laughing, crying, - such Thanksgiving! She beamed and said "I have something to show you." I was given a ride on an old Enfield motorbike with one of the boys squeezed in front of Beirut, Anar's husband, and me in back with Anar running alongside. We went down a sandy path, turned a curve, and Anar yelled, "Zuni! ... there!" I looked over at the clearing, and there was the most lovely, perfect one-room cement house I have ever seen. My God, Anar had indeed, against all odds, built herself a home.