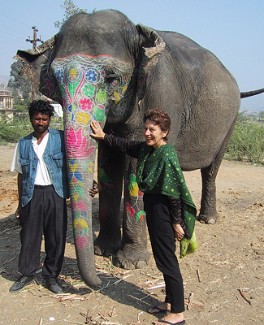 If the story of a contemporary artist in pursuit of her passion was told, Noël Michelsen would be its subject. Signature jewelry designer, photographer, collector of rare antique beads and Vintage textiles, Noël has lived across the globe and made lasting friendships with people of many countries.
A native San Franciscan, Noël has been collecting heirloom objects of art from Africa, India, Asia, and Europe for 55 years; exquisite eclectic beads of silver and gold, precious stones, and antique buttons - all talismans of beauty, ritual, and protection.
Graduating from U.C. Davis in the mid '60s, Noël returned to San Francisco and the creative energy of the alternative years. I graduated in theatre, and moved to North Beach. Little did I know that walking into Yone's bead store on Grant Avenue would spark a journey of the heart, and my dedication to the intricate beauty and wonder of the cultural history of personal adornment.
Noël's tipping point use of antique buttons as the closure for her bracelets and necklaces originated in 1973. While living on the southern coast of Maine, Noël discovered a rare and personal collection of antique buttons: I saw the buttons as art in miniature and began to use them in my work as the finishing touch.
Robert K. Liu, Editor of Ornament magazine, comments:
Noël Michelsen makes a necklace that converts to a choker by removing one portion which can then be worn as a bracelet; the longer necklace can also be worn as a belt. Her use of buttons as clasps makes this type of convertibility both practical and aesthetically pleasing.
Collectible Beads, 1995
Appreciation for Noël's jewelry is shared by a family of collectors who value the vision and authenticity of her work. Her elegant collection spans many exotic cultures, reflecting the living spirit and legacy of family dowry.